Atlanta Eagle trial: Charges dismissed, defendants not guilty
Posted By Thomas Wheatley Creative Loafing Atlanta. @thomaswheatley on Fri, Mar 12, 2010 at 12:07 AM.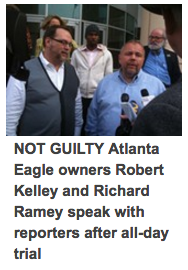 All but one of the eight employees and dancers arrested at the Atlanta Eagle during a controversial September police raid have been cleared of all charges or been found not guilty by an Atlanta municipal judge.
Municipal Judge Crystal Gaines today said the city failed to prove that members of the so-called "Eagle Eight" danced nude without a permit and that the employees of the Ponce de Leon Avenue gay bar operated an "adult entertainment" establishment without a license.
Senior Assistant Solicitor Larry Gardner called only two witnesses — out of nearly 10 officers who observed alleged illegal activity — to testify during the day-long trial.
During testimony, Detective Bennie Bridges, who said he entered the bar wearing civilian clothes after police received tips and complaints about alleged drug use and illicit sexual activity, testified that he observed men dancing in underwear, exposing their genitals, and accepting tips that were tucked into their waistbands. Yet when asked to point out defendants, Bridges was unable to correctly identify three of the men. Vice Sgt. John Brock, who also entered the Eagle that night wearing civilian clothes, was unable to corroborate key pieces of Bridges' testimony.
Begner argued that the Eagle was a bar — not an adult entertainment establishment along the lines of a strip club or massage parlor — and that employees were charged under the wrong code. If dancers were indeed exposing themselves, he said, they should have been charged with indecency.
Gardner dismissed charges against Ernest Buehl, the Eagle's door man on the night of the raid, before the court recessed for lunch. Shortly thereafter, charges against bartender Chris Lopez, dancer Robert Kline and manager David Shepherd were also thrown out.
Dancers and defense witnesses that included employees and patrons denied observing any nude dancing.
After hearing their testimony and reviewing arguments, the judge ruled Eagle co-owner Robert Kelley and dancers Thdareius Johnson and Lenardo Apud were not guilty of the remaining charges.
Approximately 25 supporters and witnesses applauded — before being sternly reminded by the judge to remain in order — shortly after the verdict. Tears filled the eyes of co-owner Richard Ramey as supporters and the Eagle Eight embraced. Gardner declined to comment.
"We knew we didn't do anything wrong and we're very happy with the results," co-owner Kelley said after the trial. "All I know is there should be a good party tonight at the Atlanta Eagle."
"The outcome suggests the underlying reason for this was there was no reason for this," Begner said. "To bring in three paddy wagons, 25 Red Dog officers for eight ordinance violations that weren't even true, is evidence of the heavy-handedness. And I think this shows there was no reason to arrest these men."
Antonio Benitez, a dancer who was arrested on the night of the raid, did not appear in court on Thursday. The judge issued a bench warrant for his arrest.
The city still faces a federal civil trial filed by the bar and several patrons who claim they were ordered to lie face down on the floor and subjected to derogatory slurs during the raid. A copy of that lawsuit is available on the Atlanta Eagle Police Raid Web site. (During testimony, Bridges said he heard no slurs.) The police department's Office of Professional Standards is also conducting an investigation. The Citizens Review Board, which investigates claims of excessive force and abuse by police, wants 18 police officers to testify about the evening's events.
(Photo by Thomas Wheatley)